Confined space rescue drill at Braintree DSM
Last week the team at Braintree saw 30 fire fighters/ specialist rescue operatives descend on Braintree DSM plant to complete a Confined Space Rescue drill.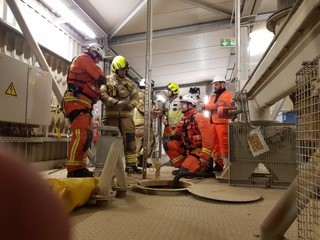 ---
Roger Taylor, DSM Ops Manager commented, "To gain access to the site you have to get through 6 locked gates and we sometimes have drivers sleep in their cabs overnight. Kevin Hyams, Dry Silo Engineer, recognized the hazard of drivers being locked in and raised a NMHA card."
Roger had another concern that a post code for the Quarry did not exist and was worried that the Fire Brigade would not know where to go in a real emergency.
So, he invited Essex Fire and Rescue to the plant so that they could update their response file to the site. The file automatically gets displayed in the cab of the Fire engines in an emergency and this will notify the Fire Fighters of any instructions on how to enter the site and any harmful or flammable products on site.
Paul Adams Fire Chief for Braintree fire station was very impressed with our emergency readiness and asked if they could carry out a Confined Rescue drill, one to test their response and two to test our procedures. The idea was that only Paul knew the layout of the plant and what we were intending to do, the rest of the team just knew it was a training drill but didn't know what to expect including getting through 6 locked gates.
Lee Liggan, Plant Manager for Braintree DSM prepared the silo before the Fire Brigade got there and lowered a dummy down under controlled circumstances. Lee was also the first contact when the Fire Brigade got on site, it is crucial the first contact gives clear and precise information on what has happened to minimise any reaction times.
Even though Roger had organised the rescue with the Brigade, he couldn't believe how many people and machines needed to turn out to rescue one person. Roger commented "We had two fire engines, a truck loaded with specialist rescue equipment, a ALP (Articulated Lifting Platform), a hazardous material response truck and numerous other vehicles. It was very impressive to see how everyone knew their job, their own procedures were obviously very well drilled, no one was allowed in/out of the building without being checked in/out, instructions were clearly communicated, their equipment was the best you can get."
One thing that surprised Roger was how long it took to get set up and ensure all controls were in place before a rescue person was allowed to enter the Confined Space and attend to the injured party, in a real situation this would feel like an eternity. But this is the same of our "Stop and Think" ensuring all hazards have been identified and controls put in place before continuing. Roger concludes by saying that "there is no point attempting to save someone if the rescuer is going to get hurt."