CEMEX Projects Applauded By The Industry
Congratulations to the teams on both the Mersey Gateway project and Northern Extension Line project for receiving industry accolades last week from the Concrete Society Awards. Mersey Gateway was the outright winner at the 50th Concrete Society Awards Ceremony with the Northern Line Extension Project Team winning the Customer Service Award from the BRMCA (British Ready Mixed Concrete Association).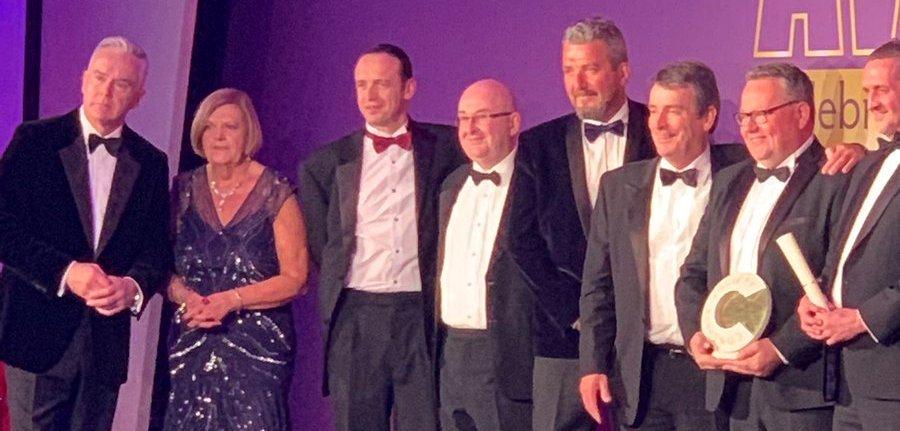 ---
This is fantastic recognition for all the teams involved and proves that our projects and customer service really are some of the best in the industry. Well done to Damon Montgomery and Gareth Wake who collected the Mersey Gateway Award on behalf of the team. Congratulations also to Peter Harwood, Technical Manager, Dennis Hennessy, Shipping Office Manager. and Francis Chukwumbene Eni, Technical Manager, who collected the Northern Line Award on behalf of the project.
Here's what The Concrete Society had to say about the Mersey Gateway Project:
THE MERSEY GATEWAY BRIDGE – the UK's only long-span cable-supported bridge constructed primarily using in-situ concrete – was the Outright Winner at the 50th anniversary of the prestigious Concrete Society Awards in London on Wednesday night.
The bridge, which runs from Widnes to Runcorn, represents a significant advancement in concrete's application for bridge construction and is an exemplar of the material's flexibility. It was nominated by CEMEX UK Materials.
On announcing the winner at this year's ceremony on 21 November, guest presenter, broadcaster Huw Edwards said: "This is a modern masterpiece in concrete design and construction. It works as a big bridge should."
Some 500 members, guests and construction industry representatives attended The Concrete Society Awards Dinner held at the Royal Lancaster Hotel. The event celebrates excellence in concrete and is one of the longest-running awards programme in the UK construction industry, celebrating its Golden Anniversary this year.
Judges from The Concrete Society, the Institution of Structural Engineers and the Institution of Civil Engineers visited all nominated projects – unique among construction awards programmes. The Outright Winner was unanimously agreed for its technical advancements in the use of concrete.
Damon Montgomery of CEMEX UK Materials said: "We are delighted to receive this honour from such a respected body of judges. Without the collective efforts and teamwork of all stakeholders, this project simply would not have been delivered to the exacting quality required.
"A key success factor was the full collaboration between the CEMEX UK Materials integrated supply chain, along with the dedication and organisation of our operations, technical and logistics teams, often delivering high-performance products to the project under significant time pressures.
"The result is an iconic structure that we are very proud to have delivered and its use and visibility in the community will, without question, last for many years to come."