On Wednesday this week, companies around the globe celebrated International Women's Day 2023, across various external communications. This year's theme was #EmbraceEquity. Gender Equity means respecting all people without discrimination, regardless of their gender.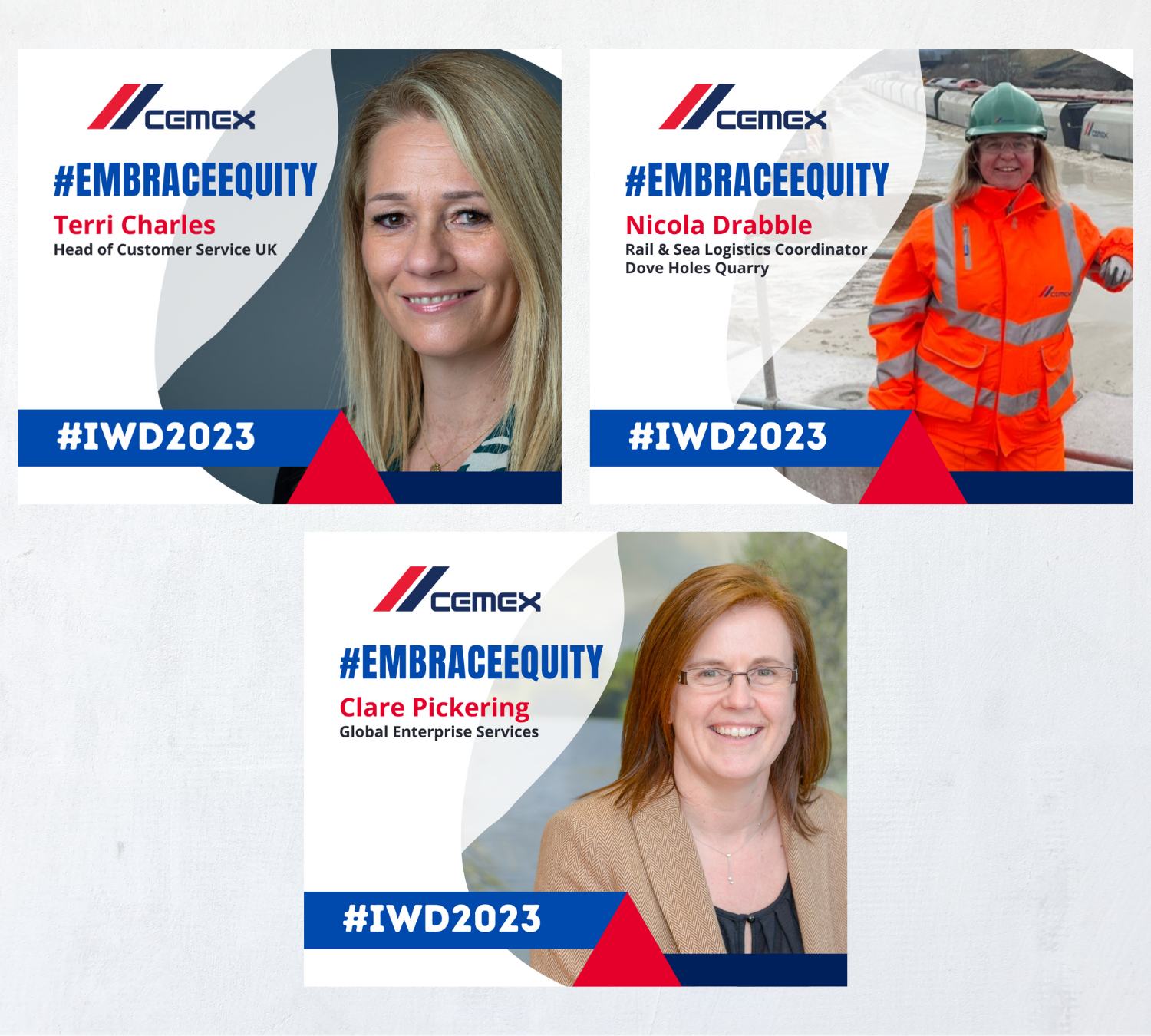 ---
CEMEX UK was proud to be part of the GCCA's year-long campaign 'Essential Women In Our Essential Industry'. CEMEX UK's Sharon Baker, Screed Key Accounts Sales Executive - Readymix London & South Coast, featured in a video shared by the GCCA on social media – you can watch it here.
To shine light on some more of our amazing female colleagues, we asked three women from across CEMEX UK, to share with us why they love working in the construction industry, and what is their favourite aspect of their job. We proudly shared these on our social media channels across the day.
Thank you to Clare, Terri and Nicola for sharing their thoughts with us.
Clare Pickering, Director R2R Service Delivery EMEA
"Working in the construction industry – there is so much going on from, large scale investment projects through to looking after our mental & physical wellbeing – we are always looking to improve, so there is always a challenge ahead to get involved in. My favourite part of the job is being with my team supporting them, developing them, challenging them or just catching up with them. My team are my strength."
Terri Charles, Head of Customer Service UK
"I am very proud of the impact working in the construction industry has on the communities we live in, building a better future. We are a people industry and I enjoy listening to our customers' needs and collaborating with teams to improve our ways of working to provide a Superior Customer Experience. It is a dynamic environment with lots of variety and overcoming daily challenges to provide solutions motivates me. Also being a mentor to other women starting their careers in construction has allowed me to pay it forward which is very rewarding."
Nicola Drabble, Rail & Sea Logistics Coordinator at Dove Holes quarry
"I have always had an interest in construction as my dad was a carpenter and I use to enjoy time in his workshop making bits and bobs as a child. I went on to study construction at college as I wanted to be a Quantity Surveyor. I love the daily challenge, my colleagues, and the fact that no day is the same. The job is rewarding, and I feel that I make a difference. It gives me a huge sense of achievement when problems are overcome, and our customers receive the products they need."