Little Mix Raises Money For The Bluebell Hospice
Last weekend our Yorkshire and Humberside soapbox racing team had a weekend supporting the Bluebell Wood Children's Hospice.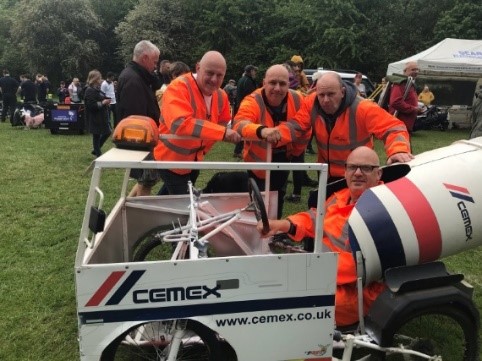 ---
John Parker, Area Manager, takes up the story: "Little Mix, our trusty soapbox cart, did CEMEX proud as she managed two runs to a delighted crowd of onlookers and supporters. No trophies this year but with several modifications we will see what next year brings. Many thanks to Gordon for building Little Mix and Mark "Wreck it Ralph" for being the brave driver!
Many thanks to Dom, Miranda, James and James for helping organise the event which up to date has smashed the £5,000 target; we are currently just under £6,000 with donations still coming in from both Readymix and Aggregate customers, as well as the CEMEX employees and family and friends who made up our team and the Rightmix guys.
After hearing all the good work we have done for Bluebell Wood, Rightmix approached us to play a football match to raise monies for the hospice. We agreed.
The game took place at the New York stadium at Rotherham. It was a competitive game with Rightmix eventually coming out on top to take the win.
We have received great feedback from Bluebell Wood and everyone who was involved in another customer/charity event. The Yorkshire and Humberside team enjoy doing these bringing customers, CEMEX staff, our families and communities together the CEMEX way!!"
Since 2014 we have raised over £25,000 for this great charity. Thanks to all involved.