Making a Difference to Those in Need
Back in November, Matt Baines and Steve Coles from the UK Operational Excellence team took time out to Lend a Hand to Samaritan's Purse Operation Christmas Child (OCC), where they helped pack Christmas gift shoe boxes for underprivileged children.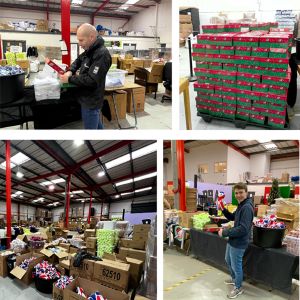 ---
In an email sent by Mrs Jacky Garbett, a local volunteer with Operation Christmas Child, she thanked Matt and Steve for their support and shared some details about where the shoe boxes were sent.
"On behalf of OCC I want to express our thanks and appreciation to you, for your support for OCC this past November. You were an amazing and valuable part of our volunteers team. I do hope you enjoyed your experience and appreciated the part that you played in bringing hope, joy and love to so many children living in difficult situations.
Over 250,000 gift-filled shoeboxes were collected/packed and processed across the UK, and then transported via 18 lorries and 9 shipping containers to Ukraine, Belarus, Bosnia, Moldova and Albania + Nigeria and Central Asia… Thank you again for helping to bring hope and joy to so many families in difficult situations. But once again, a huge thank you for the work and support, packing and processing the OCC shoeboxes. Your help was so appreciated. Over 30,000 online shoeboxes were packed in Oldbury and you were a vital part of the team."
Operation Christmas Child is one part of the work of a larger charity – Samaritan's Purse, which is currently involved in relief / medical work in the war affected areas of Ukraine, and the earthquake devastated areas of Turkey and Syria.