Supporting Disadvantaged Groups Back into Employment
CEMEX UK's key partnerships in 2022 included the Cambridge Science Centre, PAN Intercultural Arts, Macready Theatre and through these partnerships the organisation was able to reach over 50,000 community partners around the United Kingdom.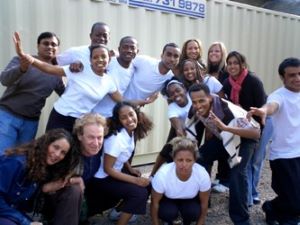 ---
We wanted to share the key achievements for these partnerships over the last 12 months and this week will look at PAN Intercultural Arts.
PAN's creative programmes help asylum seekers and refugees to move beyond trauma, grow in self-esteem, improve their communication skills, form positive mindsets, make friends, integrate into their communities and make plans for future successes.
With support from CEMEX in 2022, PAN has helped many into employment – here are some examples of their success:
Trained two previous participants to become employed Project Directors for Fortune and other projects. They use these skills to gain employment in other charities.

Two other former participants have apprenticed with us and are now employed in Fortune as facilitators.

Three participants became confident enough to obtain jobs in hospitality.

Two former participants, one with direct advice from CEMEX, have set up their own construction companies and are bidding for council contracts.

Two current participants are working with us on applying for Army and Police cadet employment.

Two participants left to take up full employment in hairdressing-barbering.

One participant entered employment as a part time youth football trainer but still attends sessions. When he joined us he spoke extremely poor English; this has improved exponentially.

A past participant has graduated as a baker.
PAN is very grateful for the support from CEMEX: "Only in-depth engagement produces results, not one-off events and this is only made possible through the support of CEMEX for which we are deeply grateful. We look forward to continuing this work and supporting many more fragile and vulnerable young adults."
To find out more about the PAN Intercultural Arts, visit: https://www.pan-arts.net/