Winter Wildlife Wonderland in Your Garden
With winter around the corner now is the time to start thinking about how to make your garden a winter haven for wildlife.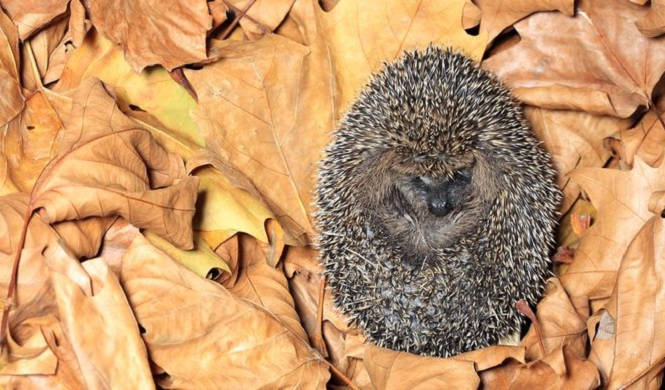 ---
Birds, bees and hedgehogs need all the help they can get from us. Winter can be a tough time for Britain's wildlife.
As the nights draw in and temperatures drop, native animals like hedgehogs need to find a safe, cosy spot to hibernate until spring.
Food sources can also be scarce for our butterflies, birds and bees. Turning your garden into a sanctuary for woodland wildlife in autumn can make all the difference to our native species' survival.
That doesn't have to mean pricey garden centre buys or hours of work. Something as simple as filling up your bird feeder, leaving your compost heap to nature or adding a few late-flowering plants will attract more animals and ensure your new guests are safe, fed and watered until the cold months have passed.
Here are the RSPB's top winter tips:
Don't be so tidy! Leave an area of your garden unkempt for wildlife to live in.
Build a hedgehog house. Woodpiles are great for our spiky friends to live in and hunt for insects.
Buy a bird box and give birds somewhere to shelter in the winter.
Keep your pond uncovered as it will remain a crucial spot for birds to drink and find bugs and insects to eat.
Top up your bird bath so birds can stay clean and keep it ice free. Putting a table tennis ball in will help as the breeze will move it and keep the bath free from ice.
Add a hedge! These are great for privacy and wildlife. Evergreen hedges such as holly 'Handsworth New Silver' and Firethorn 'Teton' (Pyracantha) not only provide year-round colour but their berries provide winter food for garden birds.
Make fences hedgehog friendly. If hedging isn't an option for your garden, you can create a five inch hole in the bottom of your fence or gate so that hedgehogs and other wildlife can crawl in and out.
Add late flowering plants. Nectar and pollen tend to be in short supply during this time, but they are still essential foods for many insects – such as Michaelmas daisies, sedums, ivy and asters. Also, include some native trees and shrubs in your garden such as rowan, holly, guelder rose, wild rose, blackthorn or hawthorn.
Add a butterfly box so insects can sleep soundly over the colder months.
Fill your birdfeeder with high energy foods. Fat balls and cakes are great it's best to get the hanging feeders or enclosed ones so that the grey squirrels don't get it all!